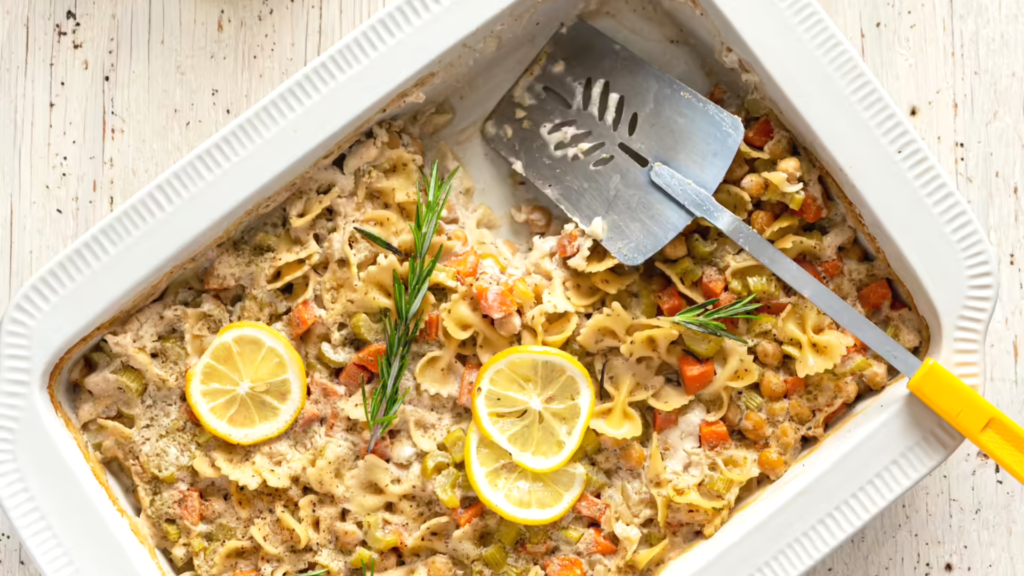 INGREDIENTS
2 teaspoons sunflower oil
1 cup diced yellow onion
1 cup diced carrot
1 cup diced celery
2 (15-ounce) cans chickpeas, drained, with 1 cup liquid reserved
1 cup raw cashews
¼ cup lemon juice
1 tablespoon lemon zest
3 cloves garlic, peeled
2 teaspoons dried rosemary
1 teaspoon salt
½ teaspoon black pepper
4 cups bowtie pasta
4 cups hot vegetable broth
INSTRUCTIONS
1. Preheat the oven to 375 degrees. In a large skillet over medium heat, warm oil. Add onion, carrot, and celery, and cook until onions are nearly translucent, about 5 minutes. Add chickpeas and cook for another 2 minutes.
2. While vegetable mixture is cooking, in a blender, add chickpea liquid, cashews, lemon juice, zest, garlic, rosemary, salt, and pepper and blend until smooth. Let sit for 2 minutes, then blend again.
3. Pour pasta, hot broth, chickpea mixture, and blended sauce into a 9 x 13-inch casserole dish. Stir to combine and spread the mixture into an even layer. Cover with foil and bake for 30 minutes. Carefully remove foil and bake until pasta is cooked through and sauce is no longer runny, about 10 minutes. Let cool on a rack for 15 minutes before serving. Casserole can be stored in the refrigerator for up to 7 days or in the freezer for up to 3 months.
Credit: vegnews.com