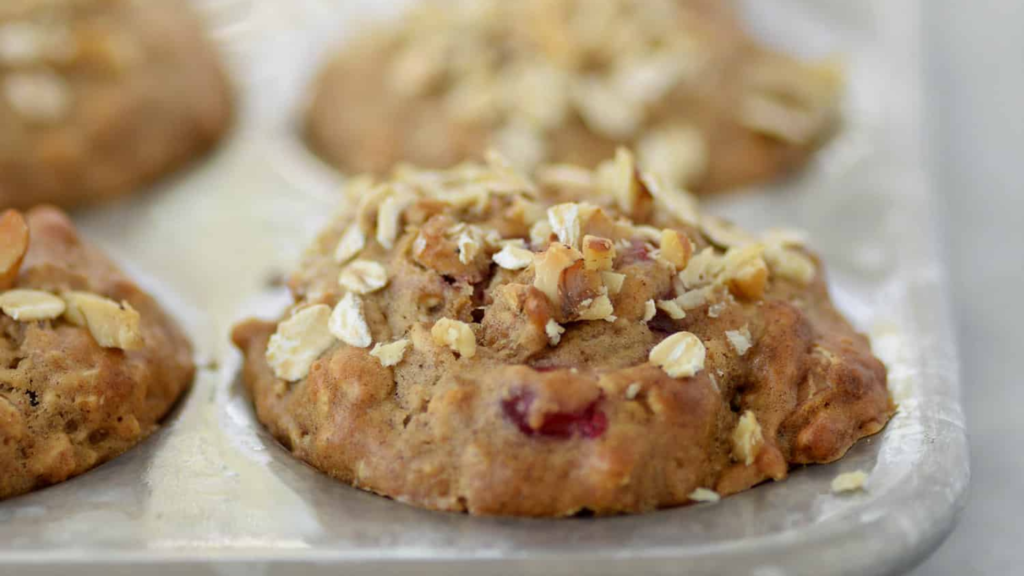 Prep Time: 15 minutes
Cook Time: 16 minutes
Total Time: 31 minutes
Yield: 12 muffins
Ingredients
1 1/4 cups flour
1 1/4 cups rolled oats (not steel cut)
1 teaspoon baking powder
1/2 teaspoon baking soda
1/4 teaspoon salt
1 teaspoon cinnamon
1/2 teaspoon grated ginger
1/4 teaspoon ground cardamom
1/2 cup applesauce
1/2 cup low-fat or soy milk mixed with 2 teaspoons vinegar
1/2 cup brown sugar
1 egg, beaten
1 teaspoon pure vanilla extract
1/2 cup walnuts
3/4 cup fresh cranberries tossed with 2 tablespoons sugar
Instructions
Preheat the oven to 375 degrees F.
Combine the flour, oats, baking powder, soda, salt, and spices in a large bowl.
In a separate bowl, whisk together the applesauce, milk with vinegar, sugar, egg and vanilla until well-mixed. Add the applesauce mixture to the oatmeal mixture and stir until just combined.
Stir in the walnuts and cranberries.
Line a muffin tin with paper liners or lightly spray with cooking spray. Fill 2/3 of the way full and bake for 16-18 minutes until golden browned and toothpick inserted comes out clean.
Credit: http://delishknowledge.com