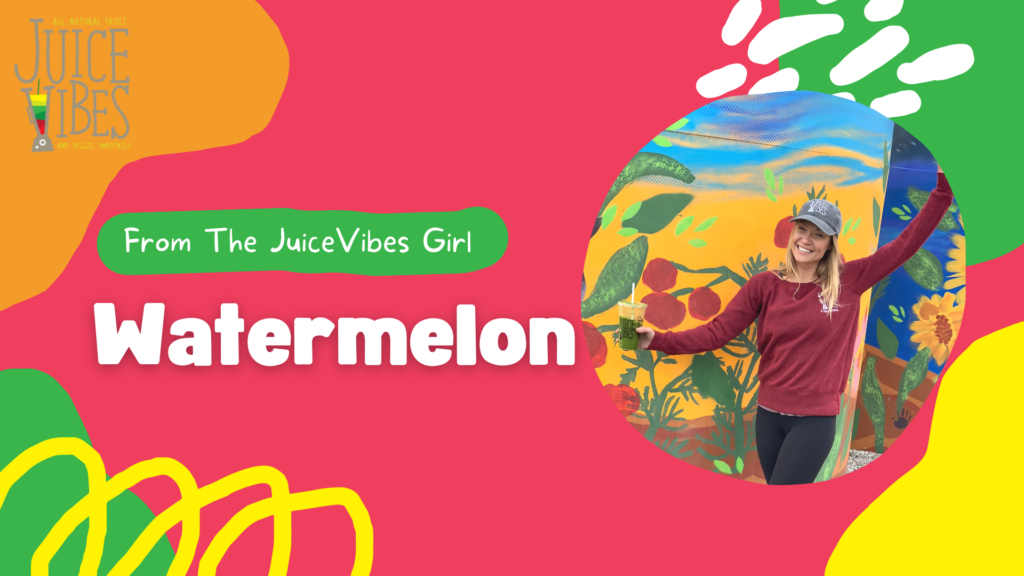 This month I want to talk WATERMELON. We mostly think of watermelon as this juicy, sweet, refreshing fruit that keeps us cool and hydrated during the heat of summer. Watermelon has another punch to pack when it comes to our health. Watermelon is a good source of lycopene that protects your skin from sun damage and curbs your risk of cancer and diabetes. Not to mention it also acts as a healthy workout recovery by preventing muscle soreness. This summer enjoy the sweet, healthy taste of watermelon at the ViBES. Check out my recipe for Watermelon Gazpacho below!
Watermelon Gazpacho
Makes 8 servings
-2 limes juiced
-3 farmhouse tomatoes (2 juiced, 1 diced)
-1/2 red onion, diced
-96 oz of fresh watermelon juice
-2 cups of fresh watermelon chunks, diced
-2 cups of English cucumbers, diced
-1 bunch of chopped cilantro
-1 jalapeno pepper, finely diced (remove seeds and pith for less spice)
-1 tbsp of pink Himalayan salt
-1/2 tsp of granulated garlic
-1/3 cup of olive oil
-1/3 cup of rice wine vinegar
Preparation – Combine watermelon juice, tomato juice, and lime juice in a container. Add diced tomatoes, cucumbers, watermelon, cilantro, jalapeño, garlic, salt, EVOO, onion, and rice vinegar. Mix with a spoon and refrigerate for at least 1 hour to chill. Serve with fresh avocado for added yumminess.