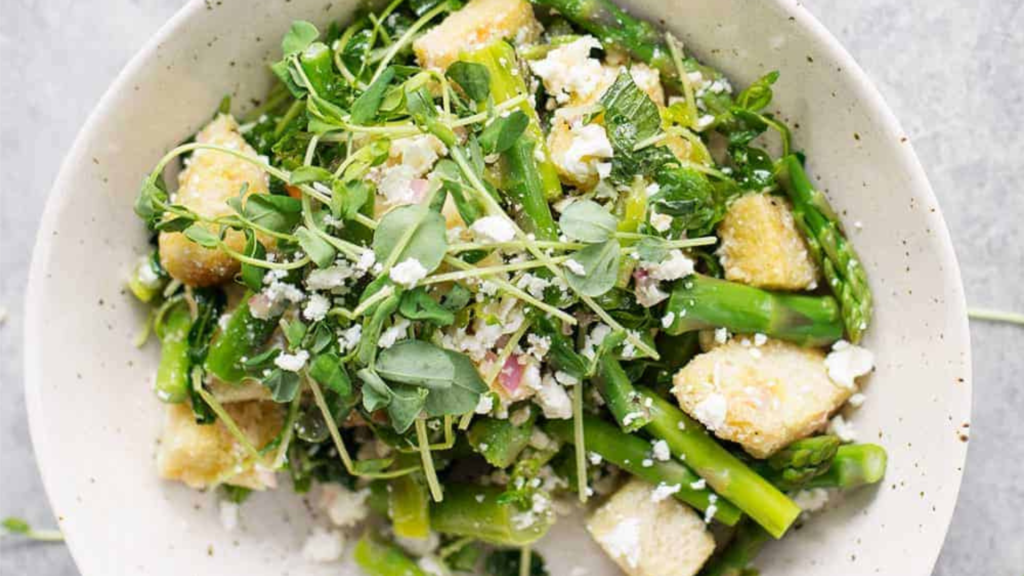 PREP TIME: 20 MINUTES
COOK TIME: 10 MINUTES
TOTAL TIME: 30 MINUTES
YIELD: 6 SERVINGS
INGREDIENTS
1 1/2 pounds asparagus
6 cups bread cubes (see notes)
1 tablespoon finely diced shallot
3 tablespoons red wine vinegar
6 tablespoons olive oil
1/3 cup torn mint leaves
1 cup pea shoots
3 ounces feta cheese
INSTRUCTIONS
1. Preheat the oven to 300 degrees F.
2. Blanch the asparagus. Bring a large pot of salted water to a boil; meanwhile, remove the woody ends from the asparagus and chop into 2″ pieces. Prepare a large bowl of ice water and set aside.
3. Add the asparagus into the boiling water and let boil for 1-2 minutes, just to soften and until they turn bright green. Add to the ice water bath and let cool, then drain and pat dry.
4. Meanwhile, cube the bread and place in a single layer on a baking sheet. Bake for 5 minutes until just golden brown, taking care not to burn.
5. Whisk together the shallots and rice wine vinegar and let sit for 5 minutes to take off some of the bite. Then, whisk in the remaining 6 tablespoons olive oil along with a generous pinch of salt and pepper.
6. Toss 1/2 of the toasted bread cubes with 1/2 of the dressing and let soften for 10 minutes.
7. Right before serving, toss the dressed bread cubes, asparagus, pea shoots, mint leaves, feta and remaining dressing in a large bowl until combined. Season to taste as needed with salt and pepper, then serve. I think this one tastes best right after tossing.
Credit: www.delishknowledge.com