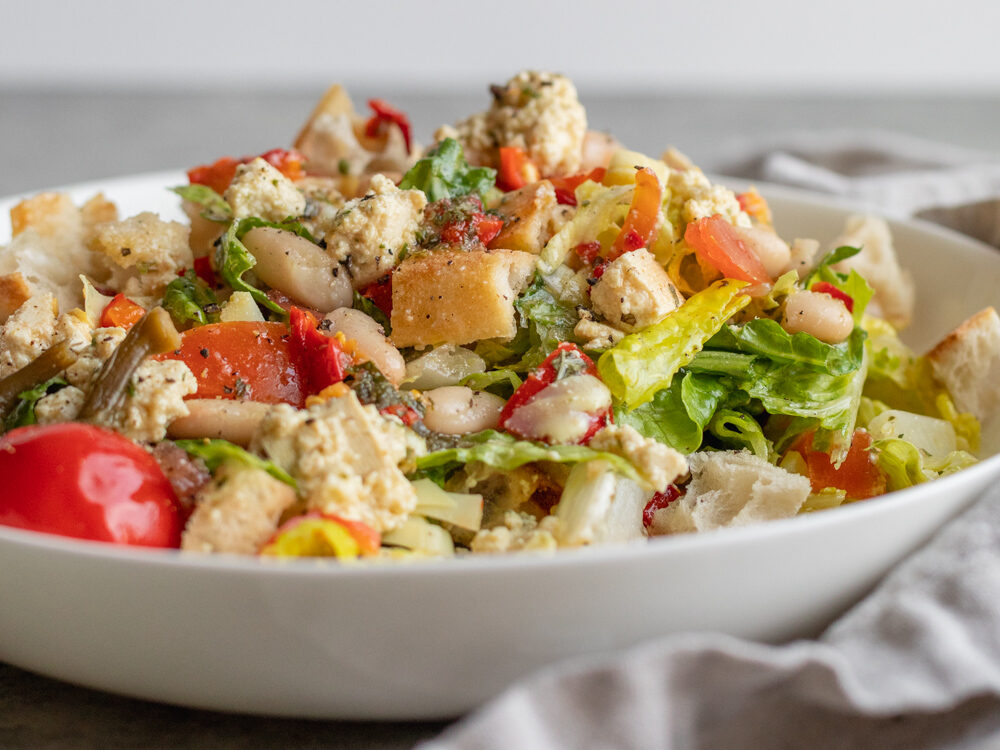 TOTAL TIME: 30 MINUTES
YIELD: 4 SERVINGS
Ingredients
8 ounces firm tofu, drained and pressed
2 cups white beans, drained and rinsed
8 cups chopped lettuce leaves
1/2 cup chopped peppadew peppers (or can sub in roasted red bell peppers)
1 (15 ounce) can artichoke hearts, drained and chopped
1 medium tomato, chopped
1 cup sourdough croutons
1 recipe Italian Dressing
Instructions
Preheat the oven to 400 degrees F.
Cube the tofu and place in a single layer on a baking sheet. Bake for 10 minutes, then flip and bake another 10 minutes until golden brown. Remove and place in a medium bowl along with 1/4 cup Italian dressing.
Place the white beans in a medium bowl and add in 1/4 cup of the Italian dressing. Let sit for at least 10 minutes as you prep the rest of the ingredients.
Toss the lettuce, peppers, artichoke hearts, tomatoes, and croutons with the remaining dressing. Add in the beans and tofu, then toss together. Season to taste with salt and freshly ground pepper.
Credit: www.delishknowledge.com