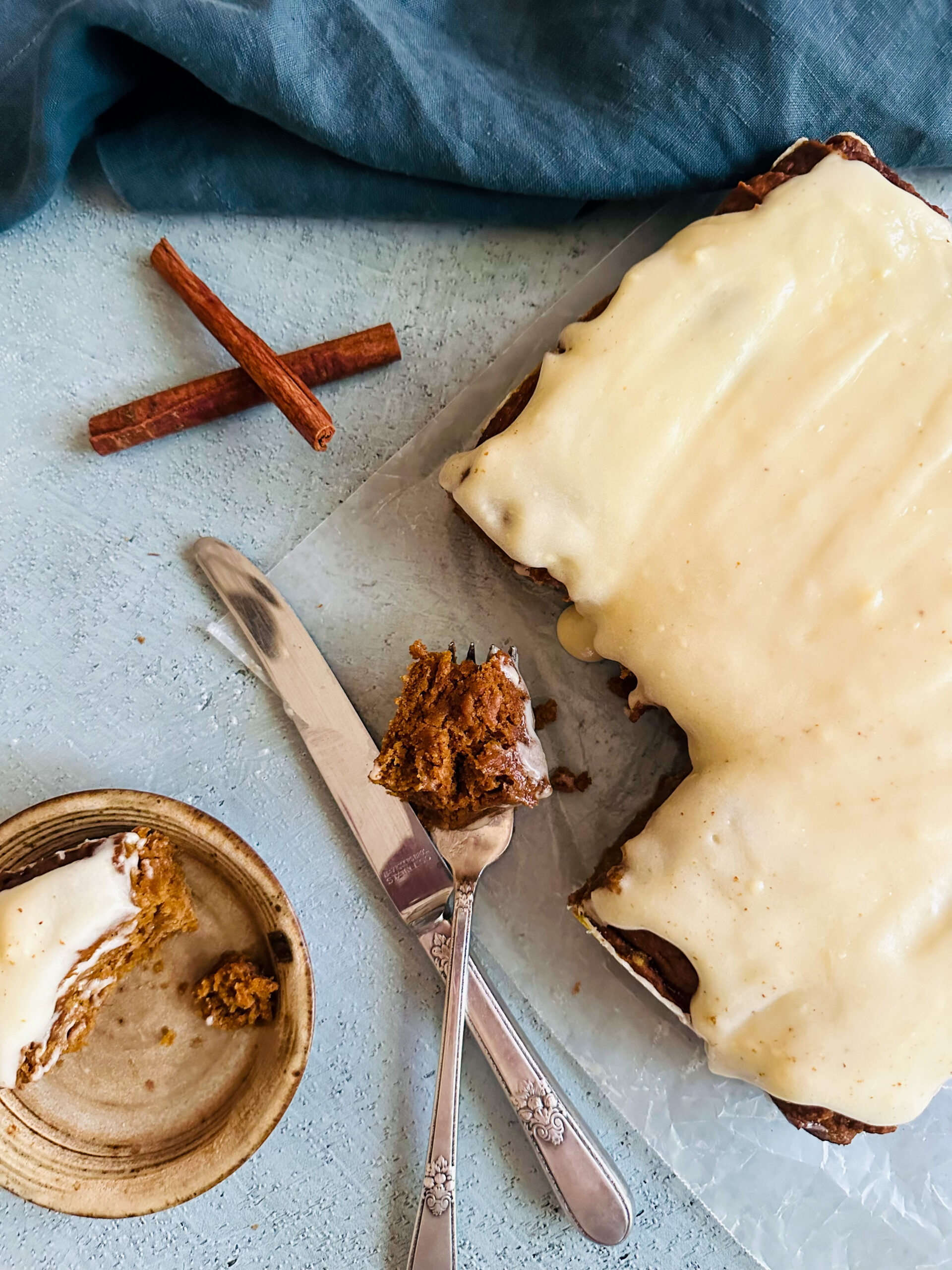 Autumn is almost here and you know what that means...pumpkin spice & everything nice! Something you may not know about this round, orange squash is that it is actually considered a fruit! Yep! Anything that blooms from a flower and contains seeds is considered a fruit. However, nutritionally it looks more like a vegetable. It is loaded with fiber, Vitamin A, Vitamin C, and potassium to help keep your skin glowing and immune system strong. Not to mention it just gets you into the fall vibes! My vegan pumpkin cake is a must try! Can't wait for you to try it!
Dry Ingredients: 
2 cups of all purpose flour 
1 1/2 tsp of baking powder
1 tsp of baking soda 
1 tbsp of pumpkin pie spice
1 tsp of cinnamon 
1/4 tsp of freshly grated nutmeg 
Wet ingredients: 
1 15 oz can of pumpkin purée
2 tbsp of maple syrup 
1 cup of coconut sugar 
1 tsp of vanilla 
1/4 cup of melted vegan butter
1 tbsp of freshly grated ginger 
Buttermilk 
1/2 cup of macadamia milk 
1 tsp of apple cider vinegar 
Preparation- mix all dry ingredients set aside. Mix all wet ingredients until thoroughly mixed. Add dry ingredients to wet, including buttermilk. Do NOT over mix. Preheat oven to 350. Grease an 8x8 pan then add cake mix to pan. Bake for 30-35 min. Remove from oven and cool. 
Frosting- optional 
1 stick of vegan butter at room temp. 
7 oz of vegan cream cheese 
1.5-2 cups of powdered sugar 
Begin to cream the butter and cream cheese. Add powdered sugar 1/2 cup at a time until the frosting is light and fluffy. Place in fridge for 15 min. Frost cake and enjoy :)