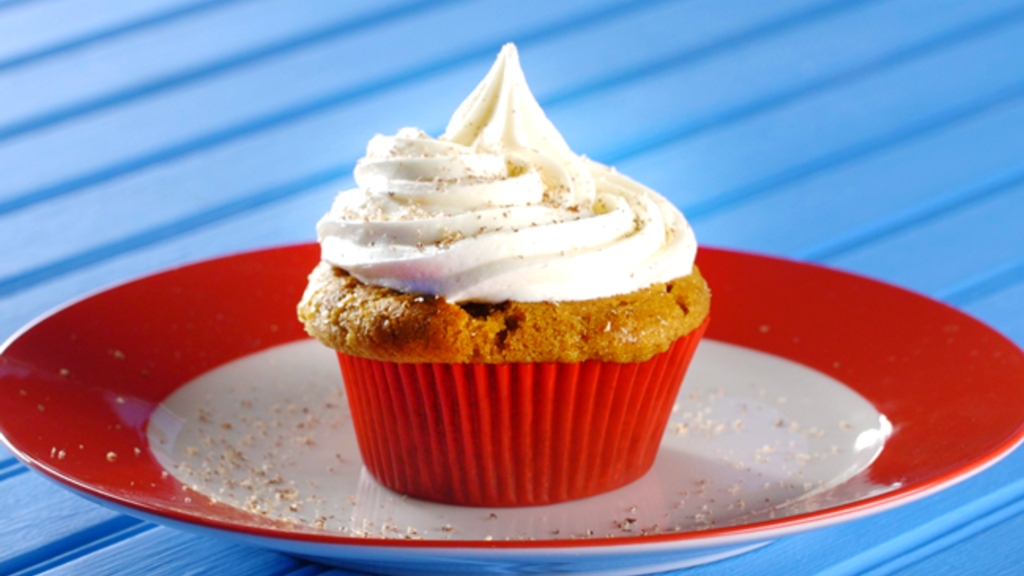 INGREDIENTS
For the cupcakes:
1½ cups all-purpose flour
1 teaspoon baking powder
1 teaspoon ground cinnamon
½ teaspoon ground cloves
½ teaspoon ground ginger
½ teaspoon ground nutmeg, plus more for dusting
¼ teaspoon baking soda
¼ teaspoon salt
1⅓ cups sugar
½ cup vegetable oil
⅓ cup vegan mayonnaise
1 cup pumpkin purée
For the frosting:
1 cup salted vegan butter, at room temperature
3 cups powdered sugar, sifted
3 tablespoons unsweetened soy or almond milk
1 teaspoon vanilla extract
INSTRUCTIONS
1. Preheat the oven to 350 degrees and line the muffin pan with paper liners.
2. Into a medium bowl, place flour, baking powder, cinnamon, cloves, ginger, nutmeg, baking soda, and salt and whisk to combine. Set aside.
3. Into the bowl of a stand mixer, add sugar, oil, vegan mayonnaise, and pumpkin purée and beat on medium speed until sugar is dissolved, approximately 4 minutes.
4. Slowly add flour mixture to sugar mixture, with mixer on low speed. Divide batter evenly among muffin wells and bake until a knife inserted into a cupcake comes out clean, approximately 25 minutes.
5. Let cool in the pan for 5 minutes, then move to a cooling rack to cool completely, approximately 45 minutes.
6. For the frosting, place all ingredients into the bowl of an electric mixer and beat on low speed until just combined, approximately 30 seconds. Increase speed to medium-high and beat until light and fluffy, approximately 3 minutes.
7. Frost cooled cupcakes with frosting. Dust with freshly grated nutmeg.
Credit: vegnews.com