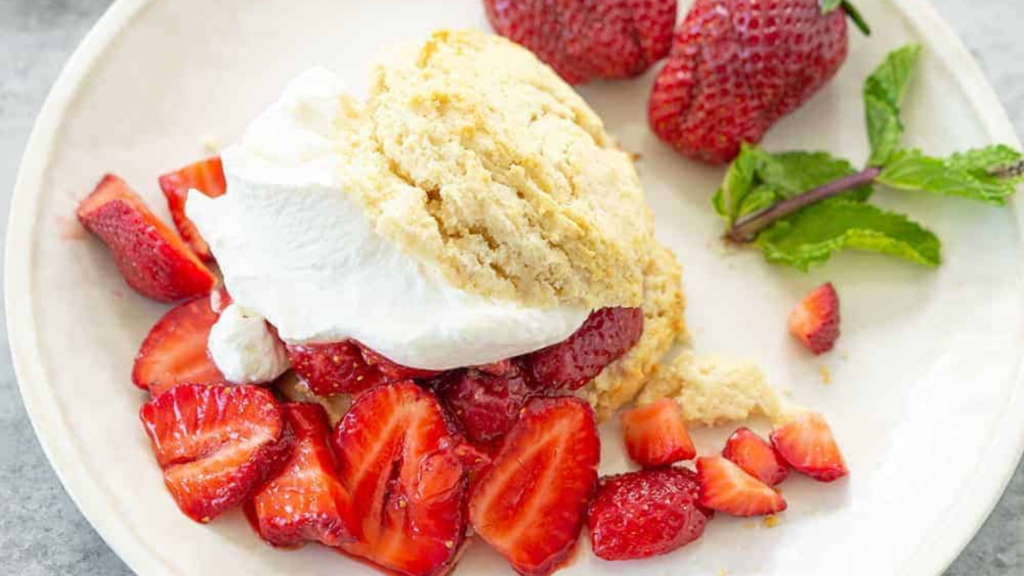 PREP TIME: 20 MINUTES
COOK TIME: 13 MINUTES
TOTAL TIME: 33 MINUTES
YIELD: 8 SHORTCAKES WITH TOPPING AND BERRIES
INGREDIENTS
Vegan Shortcakes:
2 cups all-purpose flour
2 tablespoons sugar
1/2 teaspoon baking soda
2 teaspoons baking powder
1/2 teaspoon salt
1 cup oat milk (see notes)
1/2 cup coconut oil, melted and cooled
1 tablespoon white vinegar
Coconut Cream:
1 (14 ounce) can coconut cream, chilled
1 teaspoon sugar
1/2 teaspoon vanilla extract
Strawberries:
5 cups sliced strawberries
2 tablespoons sugar
INSTRUCTIONS
1. Make the shortcakes. Preheat oven to 475 degrees F. Line a baking sheet with parchment paper and set aside.
2. Whisk together the flour, sugar, baking powder, baking soda, and salt together in a large bowl. In a separate medium bowl, whisk together the coconut milk, melted and cooled coconut oil, lemon juice (it's OK if the oil clumps.) Stir the milk mixture into the flour mixture and stir until just incorporated, taking care not to over mix. Using a greased 1/3 cup measuring cup, scoop and drop batter onto the prepared baking sheet. Repeat with the remaining biscuits, leaving ~ 1 1/2 inch space between biscuits. Bake until tops are golden, about 13 minutes. Transfer shortcakes to a wire rack and let cool before serving.
3. Make the coconut cream. While the shortcakes are baking, make the coconut cream. Skim the top layer of the cream from the coconut can and place either in the base of a stand mixer fitted with a whisk attachment or bowl to use a hand mixer. (Discard any remaining liquid for another use.) Add the sugar and vanilla to the bowl and whip until well combined and fluffy, about 2-3 minutes. place in the fridge until ready to eat.
4. Make the strawberries. Place one heaping cup of strawberries in the base of a bowl along with the sugar and mash with a fork or potato masher. Stir in the remaining strawberries and let sit while the shortcakes cool.
5. Assemble! Split each shortcake in 1/2, then top with berries and a dollop of coconut cream. Top with the remaining half and enjoy immediately!
Notes
*This recipe is adapted from America's Test Kitchen
** If you don't have oat milk, try coconut milk beverage instead (the kind in the carton, not the can) or soy milk
Credit: delishknowledge.com