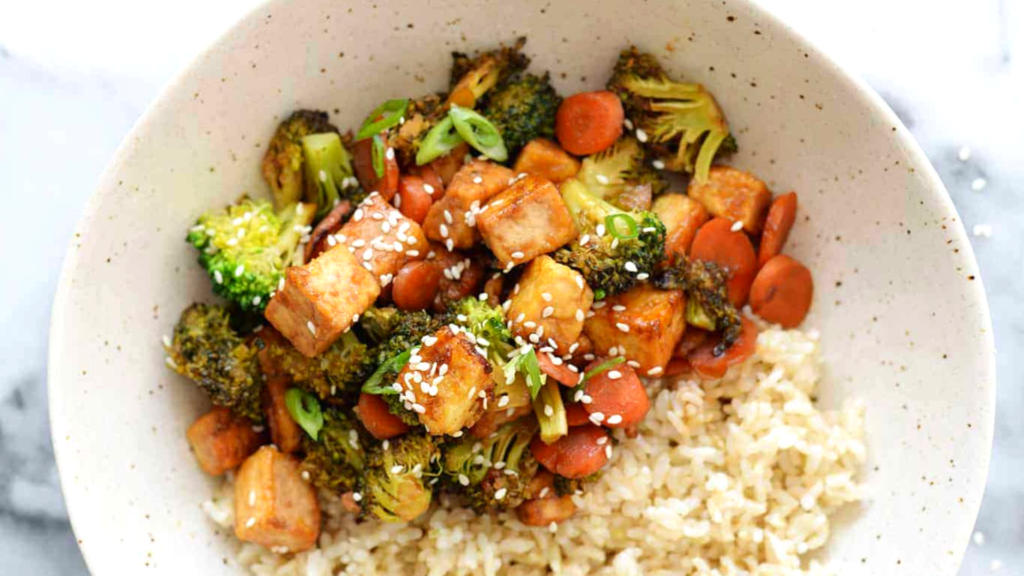 PREP TIME: 10 MINUTES
COOK TIME: 20 MINUTES
TOTAL TIME: 30 MINUTES
YIELD: 4 SERVINGS
INGREDIENTS
1 (14 ounces) extra-firm tofu, cubed
1 tablespoon cornstarch
1/4 teaspoon salt
1 tablespoon olive oil
4 cups chopped broccoli florets
1 cup sliced carrots
2 cups cooked brown rice, for serving
Sesame Ginger Sauce
3 cloves garlic, minced
2 tablespoons minced fresh ginger
1 tablespoon maple syrup
1/3 cup low-sodium soy sauce or tamari for a gluten-free version
2 tablespoons water
2 tablespoons toasted sesame oil
2 tablespoons rice wine vinegar
INSTRUCTIONS
Press the tofu: you can use a tofu press or wrap the tofu in a kitchen towel or paper towels and place a heavy object on top. Let sit for 10 minutes while you prepare the sauce and chop the vegetables.
Cube the tofu and toss with the salt and cornstarch until evenly coated.
Whisk together the ingredients for the sauce and set aside: garlic, ginger, maple syrup, soy sauce, water, sesame oil, and rice wine vinegar.
Heat the oil in a large skillet over medium heat and add the tofu. Let fry for 2-3 minutes until crispy, then flip and cook another 2-3 minutes more until golden brown all over. Add 2 tablespoons of the sauce and let cook until tofu is caramelized.
Remove the tofu and add another teaspoon or so of olive oil to the skillet. Add the broccoli and carrots and stir-fry until vegetables are tender, about 5-7 minutes. Add the sauce and the cooked tofu and cook 1-2 more additional minutes until the sauce is mostly absorbed.
Serve with cooked brown rice.
Credit: delishknowledge.com