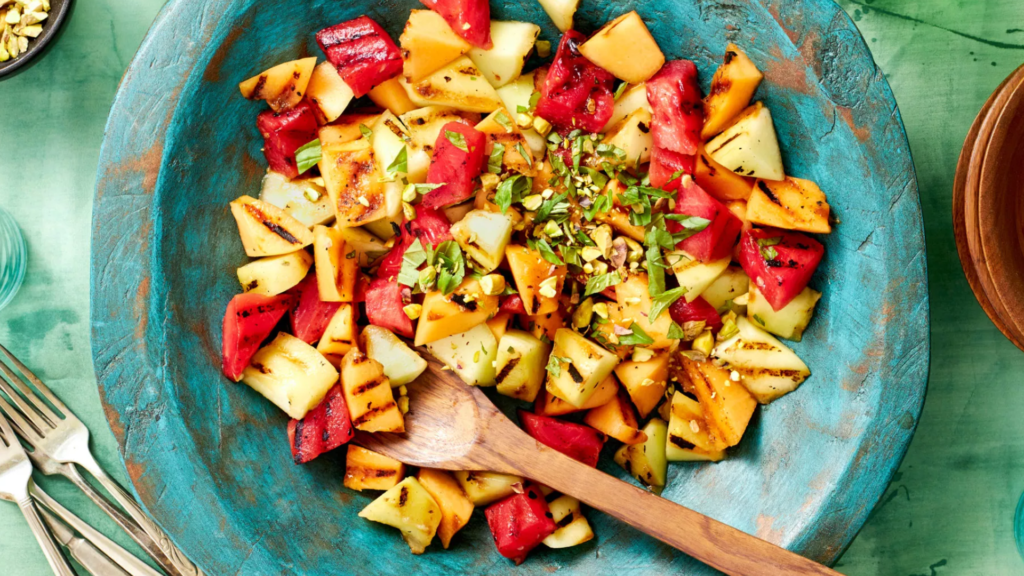 PREP-TIME: 55 MINUTES
READY IN: 55 MINUTES
MAKES 8 CUPS
INGREDIENTS
½ of a 5-lb. seedless baby watermelon, rind removed
½ of a cantaloupe, seeded and peeled
½ of a honeydew melon, seeded and peeled
2 tablespoons white balsamic vinegar
Sea salt, to taste
Freshly ground black pepper, to taste
2 tablespoons roasted pistachios, chopped
2 tablespoons chopped fresh basil
INSTRUCTIONS
Cut watermelon into 1-inch-thick slices. Cut cantaloupe and honeydew into 1-inch-thick wedges. Arrange fruit on a tray; drizzle with vinegar. Sprinkle with salt and pepper.
Grill melons, covered, over medium 2 minutes, turning once. Return melons to tray. Cover and refrigerate 30 minutes. Drain any liquid that has collected around the melons.
Cut melons into 1-inch cubes; spoon into a bowl. Top with pistachios and basil.
Credit: forksoverknives.com