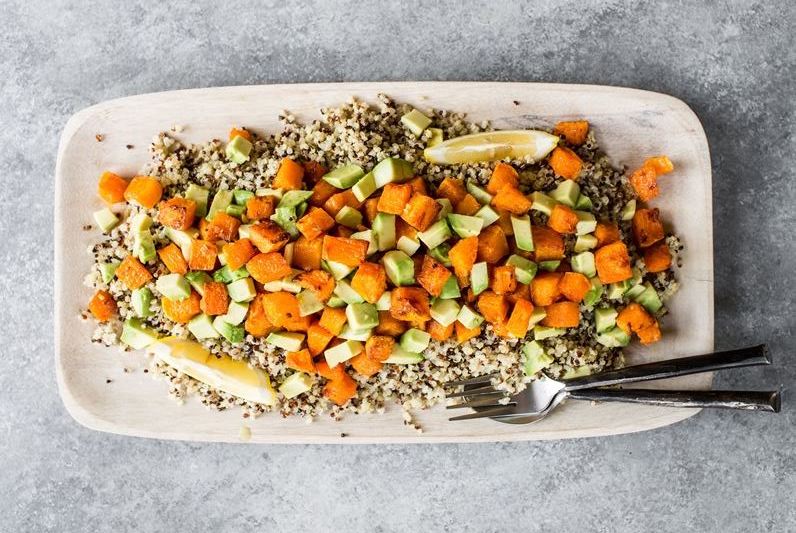 INGREDIENTS:
For the roasted butternut squash:
1 large butternut squash (about 3-3.5lb) peeled, seeded, and diced (1/2-inch cubes, 8-9 cups chopped)
2 tablespoons melted coconut oil, or oil of choice
Fine sea salt, to taste
For the salad:
1 cup uncooked quinoa
1 large avocado, pitted and chopped
Fresh lemon or lime juice, to taste
Fine sea salt and freshly ground black pepper, to taste
METHOD:
For the squash:
1. Preheat the oven to 400°F and line two large baking sheets with parchment paper.
2. Spread the chopped squash onto the baking sheets and drizzle on 1 tablespoon of oil over top each. Toss to coat. Spread the squash into an even layer, being careful not to overcrowd the squash, and garnish with a few pinches of sea salt.
3. Roast the squash until the bottoms are just starting to brown, about 50 minutes, time may vary. Check on it after 30 minutes, and then every 5-10 minutes after that.
For the salad:
1. Prepare the quinoa once you have about 25 minutes left of roasting the squash. Rinse quinoa in a fine mesh sieve and transfer to a medium pot.
2. Add 1 3/4 cups water and bring to a simmer over medium-high heat. Reduce heat to medium, cover with a tight-fitting lid, and cook for 13-16 minutes, until the water is absorbed and the quinoa is tender and fluffy. Fluff with a fork and remove from heat.
3. Season the quinoa to taste with a generous amount of salt and pepper and stir to combine.
4. Pit and chop the avocado.
5. Top the quinoa with roasted squash and chopped avocado. Garnish with a couple more pinches of salt, and a small amount of fresh lemon juice (or lime juice) drizzled over top.
6. Enjoy!